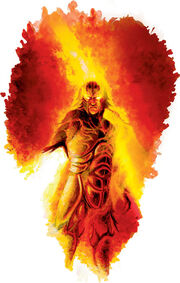 DGM Kossuth is the GM of the
USS Endeavour
and
USS Ayanami
.
He often speaks through the NPC Operations Officer Ensign Sonak on the Endeavour or Lt. Jg. William Pratt on the Ayanami.
DGM Kossuth is a self-styled "fire deity", and he lives up to his name.  Kossuth will often throw himself and those under his care into the fire, through missions with a twist.   Of course, playing with fire comes with a risk, and Kossuth will likely be burned at some point.   But don't worry, we'll be sure to get it on film.
Theme Song: http://www.youtube.com/watch?v=IfZbFh7qlCQ
Ad blocker interference detected!
Wikia is a free-to-use site that makes money from advertising. We have a modified experience for viewers using ad blockers

Wikia is not accessible if you've made further modifications. Remove the custom ad blocker rule(s) and the page will load as expected.