Commander Elizabeth Rendino-Razzor

Commander Elizabeth Rendino

Rank:

Affiliation:

Starfleet

Status:

Active

Race:

Human

Gender:

Female

Homeworld:

Earth, New York City

Insignia:
PERSONAL STATISTICSEdit
FULL NAME: Elizabeth Rendino-Razzor
CURRENT RANK: Commander
CURRENT ASSIGNMENT: N/A
SERVICE NUMBER: FC-872-33036
SPECIES: Human
GENDER/SEX: Female
AGE: 34
DATE OF BIRTH: May 15, 2384 (Stardate: 60477.53)
PLACE OF BIRTH: New York, New York, Earth
PARENTS: Dr Marion and Steven Rendino
SIBLINGS: Coleen (21)
MARITAL STATUS: Married, Admiral Marzz Razzor
CHILDREN: None
RELIGION: Roman Catholic
CITIZENSHIP: United Federation of Planets

PHYSICAL DATAEdit
HEIGHT: 1.78 meters,
WEIGHT: 49.36 kilograms
HAIR COLOR: Brown
EYE COLOR: Brown

EDUCATIONAL BACKGROUNDEdit
Academic Institutions AttendedEdit
P.S. 286 Elementary
John F. Kennedy Highschool
Service Schools AttendedEdit
Vulcan Science Academy (Honorary Bachelors: Mathematics)
Starfleet Academy: Transfer (Mathematics)
Starfleet Special Forces School

QualificationsEdit
Science Team Leader Certification
Starship Tactical Certification
Starship Command Certification
Strategic Intelligence Certification
Starship Field Medical Training
Languages Edit
Federation Standard
Klingon
Latin
Romulan
Vulcan
Cardassian
Apptitudes Edit
Elizabeth has a natural appititude for science and mathamatics. She learns languages fairly fast and has a passion for puzzle solving. She is intelligent and can be seen as a bit odd at times socialwise.
Starfleet Academy RecordEdit
Honors: Yes
Academic Major: Mathematics
Professional Major: Mathematical Theory and Application
Professional Minor: Physics, Stellar Mechanics
Class Year: Class of 2406
Class Rank: 53/600
Reprimands: 0
Commendations: 4 
Athletics: Gymnastis, Rowing
Activities: Gymnastics Team
STARFLEET SERVICE RECORDEdit
Service HistoryEdit
Stardate: 88222.42
Stardate
Stardate
Awards, Commendations, RecommendationsEdit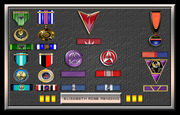 The Legion of Honor
Kragite Order of Heroism
Starfleet Command Meritorious Service Medal
The Vulcan Scientific Legion of Honor
Campaign Ribbons

Pi Canis Campaign Ribbon
Defense of Defera Ribbon
Klingon Civil War Ribbon
Romulan Expeditionary Force

Citations

1 Citations for Bravery Under Fire
1 Citations for Science Excellence

Commendations

3 Major Commendations for Bravery Under Fire
2 Major Commendations for Science Excellence

1 Purple Heart
Demerits and ReprimandsEdit
None

MEDICAL RECORDSEdit
Medical NotesEdit
Latest Fitness Evaluation performed on stardate 87910.13, by Lt. Commander Ellen Fredricks.
Results: Passed