Commander John Binet

Commander John Binet

Rank:

Affiliation:

Starfleet

Status:

Inactive

Race:

Human

Gender:

Male

Homeworld:

Unknown

Insignia:
PERSONAL STATISTICSEdit
FULL NAME: John Adam Binet
CURRENT RANK: Commander
CURRENT ASSIGNMENT: N/A
SERVICE NUMBER: ZQ 963-100
SPECIES: Human
GENDER/SEX: Male
AGE: 31 (approx.)
DATE OF BIRTH: Approx 2384
PLACE OF BIRTH: unknown
Parents: unknown, deceased
Siblings: unknown
MARITAL STATUS: Single
CHILDREN: none
CITIZENSHIP: United Federation of Planets

PHYSICAL DATAEdit
HEIGHT: 1.73 meters,
WEIGHT: 89.81 kilograms
HAIR COLOR: Brown
EYE COLOR: Hazel

EDUCATIONAL BACKGROUNDEdit
Academic Institutions AttendedEdit
n/a
Service Schools AttendedEdit
Starfleet Academy

Deep Space Program
Advanced Engineering
Advanced Warp Theory
Flight Qualified
Command Qualified
QualificationsEdit
Starship Command Certification
Junior/Senior Bridge Officer Certification
Engineering Team Leader Certification
Starship Operations Training
Languages Edit
STARFLEET SERVICE RECORDEdit
Service HistoryEdit
2397 - Found adrift in an escape pod by U.S.S. Revrence
2401 - Granted special permission by Captain Dell to train in Engineering
2402 - Accepted into Starfleet Academy, Deep Space Program
2406 - Graduated Starfleet Academy, Officially assigned to U.S.S. Revrence Crew
2407 - Assumed command and evacuated 52 crew members to U.S.S. Exodus
2407 - Transfered to Utopia Planetia Fleet Yards, Retrofit Project
2410 - Completed work on U.S.S. Yorktown Retrofit Project
2410 - Transfered to Admiral Quinn, Command of U.S.S. Yorktown for space trials.
2412 - Transfer to USS Gisselle as Chief Engineer
2413 - Transfer to USS Adagio as Chief Engineer
2415 - Transfer to USS Adagio-A as Executive Officer
Awards, Commendations, RecommendationsEdit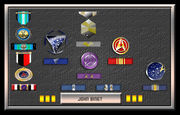 Medal of Valor
Starfleet Command Distinguished Service Medal
The Palm Leaf of Axanar
The Enterprise Award for Exploration
Purple Heart (3)
Other citations and commendations
Demerits and ReprimandsEdit
None

BIOGRAPHICAL NOTESEdit
Personal HistoryEdit
Ad blocker interference detected!
Wikia is a free-to-use site that makes money from advertising. We have a modified experience for viewers using ad blockers

Wikia is not accessible if you've made further modifications. Remove the custom ad blocker rule(s) and the page will load as expected.