Captain Joyaus Dalun

Captain Joyaus Dalun

Rank:

Affiliation:

Starfleet

Status:

Active

Race:

Joined Trill

Gender:

Female

Homeworld:

Trill

Insignia:
PERSONAL STATISTICSEdit
FULL NAME: Joyaus Kemin Dalun
CURRENT RANK: Captain
CURRENT ASSIGNMENT: Commanding Officer , USS Sentinel
SERVICE NUMBER: 3DE21-21DC1
SPECIES: Trill (Joined)
GENDER/SEX: Female
AGE: 47
DATE OF BIRTH: June 8th 2373
PLACE OF BIRTH: Leran Manev, Trill
PARENTS: Kelric Kemin (Father), Awsto Kemin (Mother
SIBLINGS: None
MARITAL STATUS: Married (Taichi de Silva
CHILDREN: 1 (Liliansa de Silva)
QUARTERS: Sentinel, Deck 1, Section 2, Room 1
RELIGION: None
CITIZENSHIP: United Federation of Planets

PHYSICAL DATAEdit
HEIGHT: 1.79 meters,
WEIGHT: 78 kilograms
HAIR COLOR: Black
EYE COLOR: Blue

EDUCATIONAL BACKGROUNDEdit
Academic Institutions AttendedEdit
Primary and Secondary Education, Trill Science Ministry
Starfleet Academy (2394-2398) - Tactical Operations

Service Schools AttendedEdit
Starfleet Advanced Tactical Training (Starship Combat Tactics)
Starfleet Command School (Command Officer Training)
Starfleet Survival School (SERE Training)
Starfleet Advanced Tactical Training (Away Team Combat Tactics)

QualificationsEdit
Command Officer Certification

Tactical Officer Certification

Advanced Tactical Officer Certification

Junior/Senior Bridge Officer Certification

Survival Certification
Languages Edit
Federation Standard
Trill (Modern Common Dialect)
Trill (old dialect)
Apptitudes Edit
Joyaus possesses a genius level intelligence based on Starfleet test scores. She is an accomplished martial artist, specializing in Andorian and Native Trill fighting styles, as well as an accomplished tactician and strategist, specializing in combat insertion and infiltration. She also has an innate understanding of security systems, and how to bypass them. This is suspected to be influenced by her previous host, the infamous master thief, Kenis "Smiling Kenny" Dalun, and it is debatable on whether this can be attributed to her directly.
Starfleet Academy RecordEdit
Honors: No
Academic Major: Military Science
Professional Major: Tactical Operations
Class Year: 2398
Class Rank: 56/403
Reprimands: 0
Commendations: 1
Athletics: Running, Climbing
Activities: Swim Team, Marksmanship Team

STARFLEET SERVICE RECORDEdit
Service HistoryEdit
Stardate Stardate Entered Starfleet Academy
Stardate Graduated Starfleet Academy
Stardate Assigned as junior officer on
Stardate Second officer of
2412 - Executive Officer of USS Ayanami (NCC-92777)
2414 - Executive Officer of USS Okinami
2415 -  Commanding Officer of USS Sentinel
2417 - Promoted to Captain
Awards, Commendations, RecommendationsEdit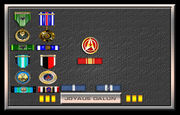 Starfleet Command Distinguished Service Medal
Campaign Ribbons

Pi Canis Campaign Ribbon
Defense of Defera Ribbon
Klingon Civil War Ribbon
Romulan Expeditionary Force Ribbon
Dyson Sphere Joint Command Ribbon

Citations

1 Citation for Leadership Excellence Under Fire

Commendations

1 Major Commendation for The Preservation Of Sentient Life
1 Major Commendation for Bravery Under Fire (2408 USS Nunvut Incident)
Demerits and ReprimandsEdit
None

BIOGRAPHICAL NOTES
Edit
Ad blocker interference detected!
Wikia is a free-to-use site that makes money from advertising. We have a modified experience for viewers using ad blockers

Wikia is not accessible if you've made further modifications. Remove the custom ad blocker rule(s) and the page will load as expected.