Commander Xaelei Arnimane

Commander Xaelei Arnimane

Rank:

Affiliation:

Starfleet

Status:

Active

Race:

Human (Liberated Borg)

Gender:

Female

Homeworld:

unknown

Insignia:
PERSONAL STATISTICS
NAME: Xaelei Dane Arnimane
CURRENT RANK: Commander
CURRENT ASSIGNMENT: U.S.S. Adagio-B, Executive Officer / Chief Science Officer
SERVICE NUMBER: XA-212-314
SPECIES: Human Borg (Liberated)
GENDER: Female
AGE: 32 (estimated)
DATE OF BIRTH: Unknown
PLACE OF BIRTH: Unknown
PARENTS: Unknown, Mark and Patricia Arnimane(foster parents)
SIBLINGS: Cygnus and Shantal
MARITAL STATUS: Single
RELIGION: unknown spiritual belief from an ancient assimilated culture (her name is derived from Xaea Selei "the voice of us all")
CITIZENSHIP: United Federation of Planets
Physical AppearanceEdit
HEIGHT: 1.77 m
WEIGHT: 75.7 kg (mechanical augmentation adding to base weight)
HAIR COLOR: black
EYE COLOR: solid, reflective black
SKIN TONE: pale white


LANGUAGES:Edit
numerous programing languages
fragmented assimilated cultures
APTITUDESEdit
Calm, polite, and persistent. She displays professional leadership and administration. She overcomes challenges by using numerous techniques, perspectives, and resources simultaneously. Masterful at multitasking and computer sciences and mathematics. Core competency in applied sciences. Highly skilled in sensor and communication operation. Emergency medical treatment certification. Amateur music composer and professional performer.
She is natural leader and coordinator. The speed in which she can process and coordinate is unrivaled, as if she was born..or created..for the task.
Her left hand has bio-neural interface circuitry to allow her to manually connect to computer systems.
Her most unique quality is the ability to have her consciousness leave her body and literally travel into cyberspace and computerized systems.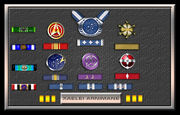 The United Federation Of Planets Medal of Honor
Starfleet Command Distinguished Service Medal
The Preantares Award for Conspicuous Gallantry, 1st Class
The Enterprise Award for Exploration

Starfleet Survival Cross

Captain Ribbons

Pi Canis Campaign Medal and Ribbon
Defense of Defera Campaign Medal and Ribbon
Klingon Civil War Campaign Medal and Ribbon
Romulan Expeditionary Force Campaign Medal and Ribbon
Dyson Sphere Joint Command Ribbon

Citations

3 Citations for Bravery Under Fire
1 Citation for Bravery and Leadership Exellence Under Fire
1 Citation for Science Excellence

Commendations

2 Major Commendations for Computer Science Excellence
2 Major Commendations for Science Excellence
1 Major Commendation for Humanitarian Effort
2 Major Commendations for Bravery Under Fire
1 Minor Commendation for Away Team Conduct
1 Minor Commendation for Bravery
1 Minor Commendation for Scientific Dedication

3 Purple Hearts